COMMERCIAL SALES REP
O'Reilly Oakstown, Trim, Co. Meath are currently recruiting for the following vacancy:
Commercial Sales Representative
Responsibilities 
Increasing the value of the existing customer base and developing new relationships
Dealing with sales enquiries and preparing customer proposals
Responsible for commercial tenders
Carrying out site surveys and attending site meetings
Working with the marketing department by creating and leading new marketing initiatives both online and offline
Attending conferences, trade exhibitions and industry events
Finding and developing new opportunities for the company
Coordinate with other departments in relation to ongoing and future projects
Provide project management support to commercial projects
Requirements/Key Attributes
General wastewater industry knowledge is an advantage
Excellent Problem-Solving Skills
Positive/Flexible Approach
Excellent Communication Skills
Full clean driving licence essential
Please forward a cover letter and up-to-date CV to: HR@oreillyoakstown.com
OWNER DRIVERS REQUIRED
Please see our latest jobs below.
If you would like to apply, please send your CV with Cover Letter to hr@oreillyconcrete.com
---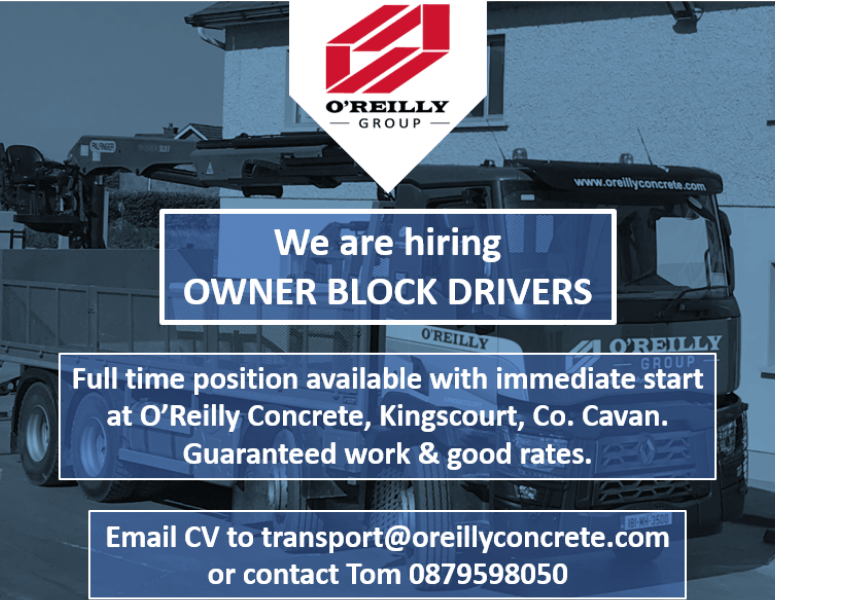 Apprenticeships and Trainee Programmes
Careers can start here at O'Reilly Oakstown. The O'Reilly Group offer apprenticeships and trainee programmes across all production plants and offices. Enjoy the benefits of full-time employment, while gaining first-hand experience learning from our knowledgeable and qualified workforce who will provide you with the support and encouragement you will need to exceed in your career.
This on-the-job training and learning is imperative to gain experience in any job sector. With the benefit of earning a wage while training, O'Reilly Concrete will ensure that you will receive the highest quality training and offer you support and motivation while doing so. Whether you're a general operative or a design engineer, we have skills and facilities to help you to kick-off your career.
We have a range of apprenticeships and trainee programme opportunities available for the following fields:
Accountant
Design Engineer
Driver
Fitter
Mechanic
General Operative
To find out more about our careers email: hr@oreillyconcrete.com
O'Reilly Group Training Centre
We have just completed our Group's new in-house training centre located in our Barleystone Paving facility in Co. Cavan. The centre will facilitate and assist in the training and learning of all employees across the O'Reilly Group. Training courses such as manual handling and toolbox talks will be held in this new centre.
Our health and safety team created a quiet and bright learning environment to ensure all participants can utilise the space to aid in the progression of their career.
The Group's training centre will be a key element in the development of the skills and knowledge of our staff. Apprenticeships, trainees and new recruits will complete their necessary training in this location allowing them to flourish in their field of work.
If you are interested in careers with the O'Reilly Concrete group contact us today.