Low Carbon Concrete Manufacturer
Low Carbon Concrete Manufacturer
The O'Reilly Group are committed to being a low carbon concrete manufacturer and reducing the environmental impact of our products and activities.
Because we are committed to low carbon concrete, we have introduced Ecocem GGBS to our concrete production. Our concrete products are produced using Ecocem GGBS as a cement replacement to lower the company's carbon footprint. We use up to 30% GGBS in our concrete mix for our prestressed products, precast concrete and paving products.
After ongoing reviews and inspections, we are delighted to see the fantastic results that can be achieved using GGBS in our products throughout our projects.
The O'Reilly Group also welcome the new laws that create carbon ceilings for industries as part of the Government's climate action bill. Our Product Development Team, along with Susan McGarry and her team at Ecocem Ireland Ltd., work closely to continually improve our concrete mix ensuring effective low carbon results.
CO2 emissions from concrete products are an ongoing concern that we regularly review. We are constantly reviewing the impact of GGBS across projects all we have worked on. We have the ability to detail this to our clients, showing the impact that our products including GGBS will have on their future projects.
The course of action of O'Reilly Concrete is to continue to reduce the amount of CO2 emissions released from our concrete while maintain its high quality.
---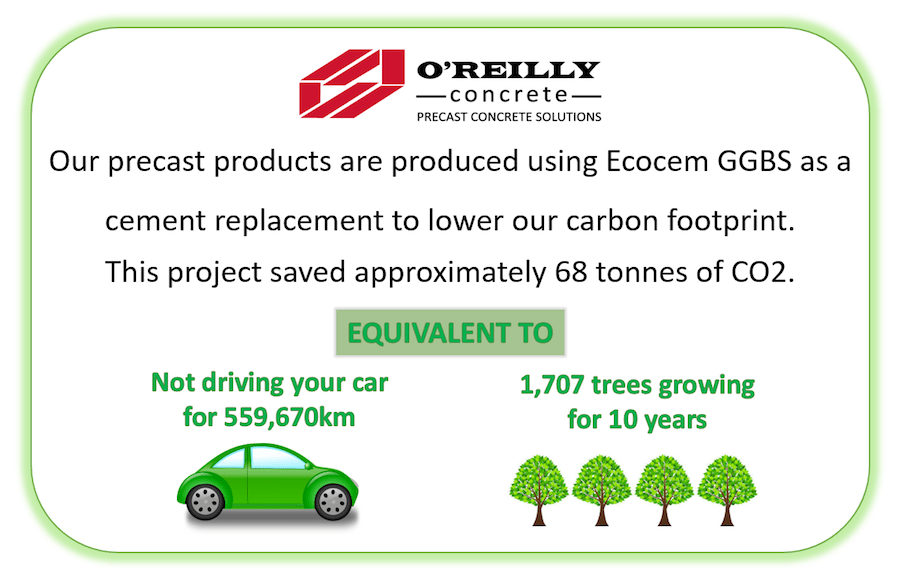 Low Carbon Concrete Project example
This project shows excellent carbon emission savings using O'Reilly Concrete prestressed walls containing GGBS.
This prestressed wall project was completed with low carbon concrete in Dunleer, Co. Louth, a storage building for warehousing food stuffs. Circa 1,990m2 of our 180mm prestressed concrete walls, installed by the O'Reilly team.
The products supplied for this project included Ecocem GGBS in the concrete mix, therefore releasing less carbon into the atmosphere. Roughly 34 tonnes of CO2 were saved, which is the equivalent of 838 trees growing for 10 years.
Contact us to find out how we can help on your low carbon concrete project.