Why Choose a Concrete Septic Tank
As Ireland's largest manufacturer with close to 40,000 septic tanks installed throughout Ireland, we can say without hesitation that concrete is the best material to choose for your septic tank!
So why choose a concrete septic tank?
Some immediate reasons why to choose concrete septic tanks are:
Concrete is very durable, long-lasting, resilient and low maintenance material. Our 4000L tanks are 5T in weight.
It's not as susceptible to damage (eg from changing soil conditions) as plastic tanks and generally has a much longer lifespan.
Once installed in the ground correctly they can be driven over without damage.
A basic concrete septic tank doesn't require electricity, so it has zero power consumption.
What's involved in the installation of a concrete septic tank?
Once we receive your order, we can carry out a free site survey to liaise with your digger man or contractor and ensure he has the dimensions of the tank to be installed, so that the grounds-work is  carried out to the correct specification.
We use our HIAB trucks to deliver directly to your home and we don't just deliver – we install also. When our driver gets to the site he will check the dimensions to confirm all is ready for the installation. A hard core base will be added initially, and there is no requirement for backfill with lean mix concrete, just clay.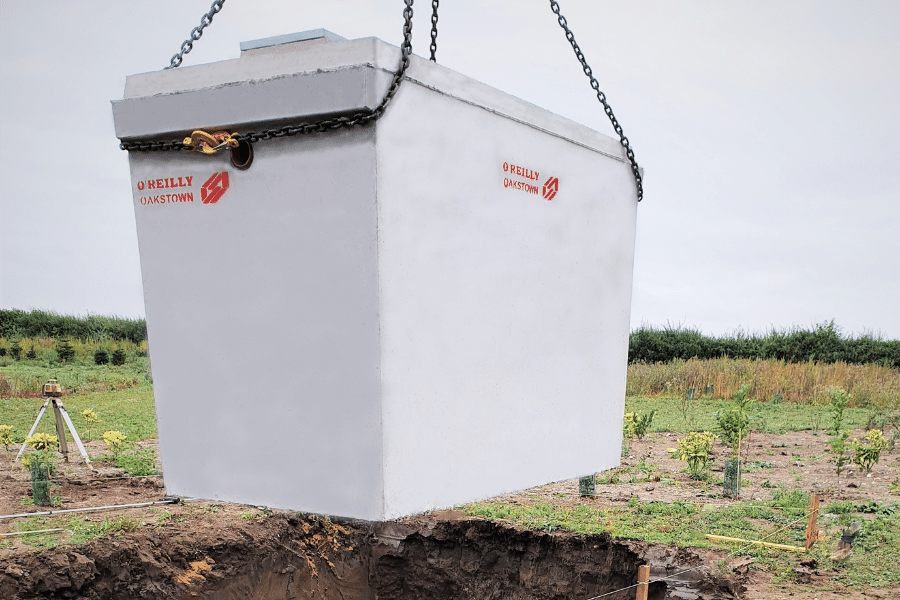 What about the percolation area?
The size of the percolation area depends on your ground conditions and the number of occupants in the house. We recommend that a percolation test is carried out in advance to determine the exact percolation requirements.
We are happy to provide advice in relation to percolation requirements specific to the site and can recommend where various materials can be sourced from, such as stone, pipework, and various fittings or materials.
What is the timeline for installing a concrete septic tank?
Assuming there is good access in terms of the tank & percolation area, it's generally 2-3 week from time of order to installation. The actual installation of a septic tank can usually be done same day once planned in advance, with a seemless transition from the old septic tanks to the new.
Where the upgrade of an existing septic tank is occurring, we can ensure there is minimal obstruction by leaving the original tank in until the new tank is ready for the changeover.
Upgrading your concrete septic tank
A major advantage of our concrete septic tanks is that they can be installed and then upgraded to a 6 or 8PE BAF system further down the line, as your needs grow. Contact us to find out more.
Septic Tank Grants
If your system fails an inspection, or if you live in a prioritised area, there are three grant schemes available. Check out our page on grants here. Contact our sales office on 046 9431389 or email sales@oreillyoakstown.com to have a chat with one of our team.
https://www.oreillyoakstown.com/wp-content/uploads/2022/07/Oakstown-Septic-Tank-Installation.png
600
900
O'Reilly Oakstown Editor
https://www.oreillyoakstown.com/wp-content/uploads/2021/09/oro-web-logo.png
O'Reilly Oakstown Editor
2022-10-03 14:06:31
2023-07-03 11:07:31
Why Choose a Concrete Septic Tank