Benefits of Upgrading from a Septic Tank to a Sewage Treatment System
Upgrading from a Septic Tank
There are many reasons why you may consider upgrading from a septic tank. The most common reasons are that the septic tank itself is of poor quality and needs to be replaced, or that the percolation area surrounding the tank is of poor quality.
Occasionally, the percolation area just needs a pump or pump chamber, which can be supplied and fitted by our service team here at Oakstown. However if these issues are not dealt with they can cause serious pollution problems which are not only harmful to the environment, but are harmful to human health.
If you're thinking about about upgrading from a septic tank to a sewage treatment system, some of the questions you might ask yourself are
How old is your tank
Have you outgrown your septic tank
Are you having problems with your septic tank
What is the difference between a Septic Tank to a Sewage Treatment System?
A septic tank is the large underground tank used to store and treat wastewater (ie from sink & toilets, washing machines, dishwashers etc) from your home before it is released into the environment. The wastewater is broken down by naturally occurring organisms.
A sewage treatment system is a method of removing contaminants from that same wastewater before it is released into the environment, using a series of mechanical and biological processes. The effluent is then disinfected before it is discharged.
What are the Benefits of Upgrading from a Septic Tank?
There are a number of benefits for upgrading from a septic tank to a sewage treatment system.
You may have outgrown your septic tank and need a larger sewage treatment system to accommodate your home & family in a safe and reliable way
A septic tank separates the wastewater, while a sewage treatment system treats the wastewater by removing pollutants and contaminants before it leaves the tank.
The water leaving a sewage treatment system is cleaner than that leaving a septic tank, therefore reducing the risk of water pollution and protecting the environment
You need a bigger percolation area for a septic tanks. However percolation areas from septic tanks are far more prone to fail due to dirty slick water entering this area.
A septic tank has to be emptied, or desludged, regularly to prevent problems.
Overall using a sewage treatment system increases the efficiency of the wastewater treatment process, reduces odours and improves the overall health of the environment.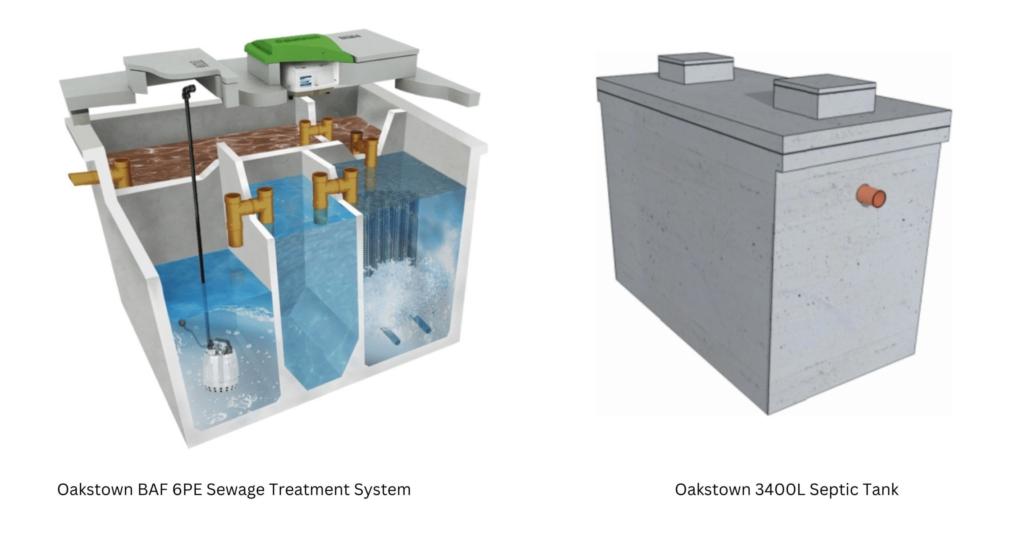 What is the Cost of Upgrading to a Sewage Treatment System?
In general the initial cost for a septic tank is cheaper than installing a sewage treatment system. You might say why would I pay more for a sewage treatment system?
Sewage Treatment Systems produce cleaner effluent and require less emptying. Septic tanks may be cheaper, but require more percolation space and more frequent emptying, and are more prone to causing problems for you & the environment.
Our concrete septic tanks start from €1150 +vat, you can purchase directly here.
The cost of a 6PE BAF sewage treatment system starts at €3,650 +vat – see product here.
Is there a Grant or Finance available?
The good news is that if you are considering upgrading from a septic tank, you may qualify for a grant.
Chat to our sales team today sales@oreillyoakstown.com and we'll advise you of all your options.
Enquire about upgrading from a septic tank to a sewage treatment system today.
Call us on 046 9431389 or contact us here.
At O'Reilly Oakstown, we manufacture and install only the highest quality fully certified tanks. Our septic tanks comply with the CE certification EN 12566-1 and our sewage treatment plants comply with the CE certification EN 12566-3.
---
Sign up to our Mailing List below for information & occasional offers
https://www.oreillyoakstown.com/wp-content/uploads/2023/02/Benefits-of-Upgrading-from-a-Septic-Tank-to-a-Sewage-Treatment-System.jpg
400
495
O'Reilly Oakstown Editor
https://www.oreillyoakstown.com/wp-content/uploads/2021/09/oro-web-logo.png
O'Reilly Oakstown Editor
2023-02-28 10:17:27
2023-07-03 11:06:03
Benefits of Upgrading from a Septic Tank to a Sewage Treatment System