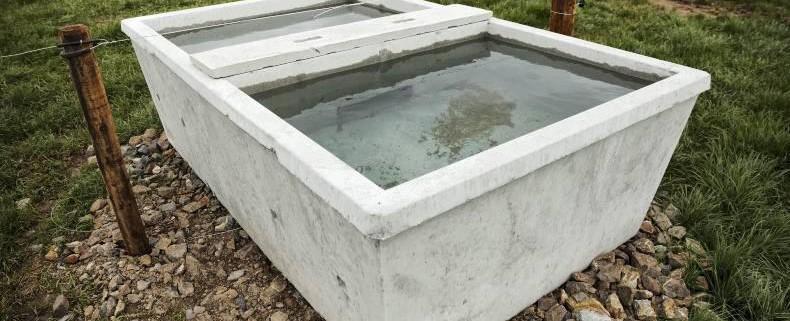 Water charges may have been shelved for now but there are still many farmers involved in local water schemes where water charges remain high.
For farmers involved on local water schemes, installing a rainwater harvesting system is a viable option to reduce water bills. It would be preferable to install a system that would provide potable water that can be used as drinking water for livestock and for washing out milking parlours. However, simply installing a tank that is used to collect water that can then be used to wash out slatted sheds etc, could help reduce your water bill.
Organic capital investment scheme
TAMS II offers grant aid to organic farmers for rainwater harvesting systems under the Organics Capital Investment Scheme to improve their agricultural buildings and equipment. The scheme offers 40% grant funding or 60% for young farmers, up to a ceiling of €80,000 per holding. The minimum amount of investment required to avail of grant aid is €2,000. This scheme is only open to licensed organic operators who are registered with the Department of Agriculture, Food and the Marine.
A rainwater harvesting system comprises of collection, filtering and storage of rainwater while the further treatment of collected rainwater is optional. The basic requirements for any rainwater treatment system is well-maintained, clean gutters directing the rainwater to a suitably sized and constructed holding tank from where the water is then distributed.
The components of a rainwater harvesting system are:
Roofed area to collect rainwater.
Clean gutters to collect rainwater from a roof.
Rainwater downpipes in good condition.
Filter to remove debris from rainwater.
Covered drains to direct rainwater from gutters to storage tank, where required.
Sump tank and sump pump where required.
Rainwater storage tank with calmed inlet and overflow.
Only rainwater from roofs of buildings is permitted to be collected for harvesting if you wish to avail of grant aid. This water must be further treated if it is to be used as drinking water for livestock or irrigation of horticultural crops. It must also be treated if it is to be used to wash milking parlours as this water needs to be of potable standard.
Tanks can be situated either above or below ground, but must be covered with a solid cover that prevents the ingress of any dirt into the tank. Floating covers are not permitted. All tanks must also be fitted with a proprietary calmed inlet to prevent the disturbance of any sediment at the bottom of the tank. It is important that the system is set up to avoid stagnation by ensuring that pipe work connections allow the flow of water through the tanks.
All tanks must be fitted with an overflow outlet attached to a suitable clean water drainage system to allow water to discharge during storm events.
When deciding on what size tank you wish to install, it is important that it has sufficient capacity to hold between a minimum of seven days' and a maximum of 18 days' rainfall from the collection area. The capacity is based on the average rainfall for the location of the tank, the size of the collection area and the demand on the harvested water. Exact rainfall figures for any location can be obtained directly from Met Éireann.
Water treatment
Treatment of the collected rainwater is optional. However, it should be noted that unless the rainwater us treated it will not be of potable standard. As such, this means it cannot be used for washing bulk tanks or milking machines on a dairy farm. It can also not be used for feeding to lactating dairy cows. All rainwater harvesting systems must have filters installed to filter any debris from the rainwater before it enters the rainwater storage tank. They must also be proprietary self-cleaning filters, with the use of homemade filters not permitted.
Costs
The costs of a rainwater harvesting system can vary greatly. Contact O'Reilly Oakstown today to find out what the cost of your system would be.
Article By William Conlon of Farmers Journal on 07 July 2016
https://www.oreillyoakstown.com/wp-content/uploads/2016/07/Rainwater-Harvesting.jpg
528
790
O'Reilly Oakstown Editor
https://www.oreillyoakstown.com/wp-content/uploads/2021/09/oro-web-logo.png
O'Reilly Oakstown Editor
2016-07-11 09:37:29
2021-04-16 08:34:15
Rainwater Harvesting Systems