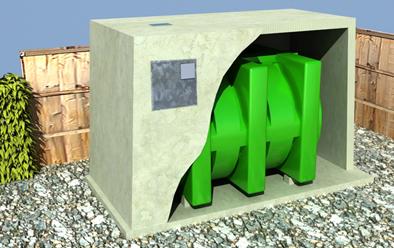 Prevent Oil Theft
Oil tank theft has risen approximately 153% since 2011, with more than 1,200 thefts in heating oil nationwide. As the black market for oil increases, the rewards for offenders do also. The incidents have not been confined to residential oil tanks, with schools, businesses, play groups and churches also being targeted. According to the Irish Times even an army barracks has been targeted with a tanker containing 20,000 litres of seized fuel being stolen from Aiken Military Barracks in Co. Louth in May 2013.
OFTEC represents the domestic oil heating and cooking industry in Ireland and David Blevings, OFTEC Ireland Manager said " Houses, farms, business premises, transport depots and holiday homes can all be affected- especially within rural areas or on quiet residential streets. Usually it's only when people run out of oil and their heating stops working that theft becomes apparent. However, taking a few simple precautions such as making a regular note of your oil levels will help to ensure you are not the victim of oil theft".
Source http://netwatchsystem.com/fuel-theft-crime-wave/#sthash.TSO7Pxvv.dpuf
Police and insurers advise customers to prevent oil theft in the following ways:
check oil levels frequently
try to arrange smaller but more frequent oil deliveries;
install automatic movement sensor security lighting around the tank
plant shrubs or erect fencing to screen tanks from view from the road
install and use lockable access gates, and erect lockable fencing around your tank, including over the top
consider fitting an alarm system which warns if the oil level drops suddenly
be vigilant following a delivery
be aware thieves may return to steal replacement oil following an initial theft
note suspicious vehicles' registration numbers and report them to police.
Prevent Oil Theft with O'Reilly Oakstown Diesel Defence System
Protect your fuel tanks from theft, damage and the risk of ground contamination caused by fuel theft. If your oil tanks are at risk we can install secure concrete enclosures to stop opportunistic thieves. All our units come with lockable filling points on top and lockable fuelling points on front if required.
Diesel Defence Tanks can also be used to build fuel tanks where necessary. Read more here
If you would like to know more Contact Us Here Today
https://www.oreillyoakstown.com/wp-content/uploads/2013/06/oil-theft-1.jpg
248
394
O'Reilly Oakstown Editor
https://www.oreillyoakstown.com/wp-content/uploads/2021/09/oro-web-logo.png
O'Reilly Oakstown Editor
2013-11-27 15:07:48
2017-03-21 12:49:04
Prevent Oil Theft