How a sewage system works, and finding the best one for your home
Sewage systems should be a one time purchase and should last the entire period of occupancy in any house. The best systems on the market will require little maintenance, an important factor in the decision of which system to go with. This article briefly describes; how a sewage system works, and finding the best one for your home.
How a sewage system works
All wastewater / sewage treatment systems have internal components as part of the their technology. Understanding the process, their lifespan and likely cost down the line, is a factor that often gets overlooked when choosing which wastewater treatment system to install.
Sewage treatment systems are more advanced than traditional septic tanks, which have generally relied on anaerobic digestion and therefore have no moving parts or treatment process. The graphic and description below outline the process of how a sewage system works, this example is for our 6PE system.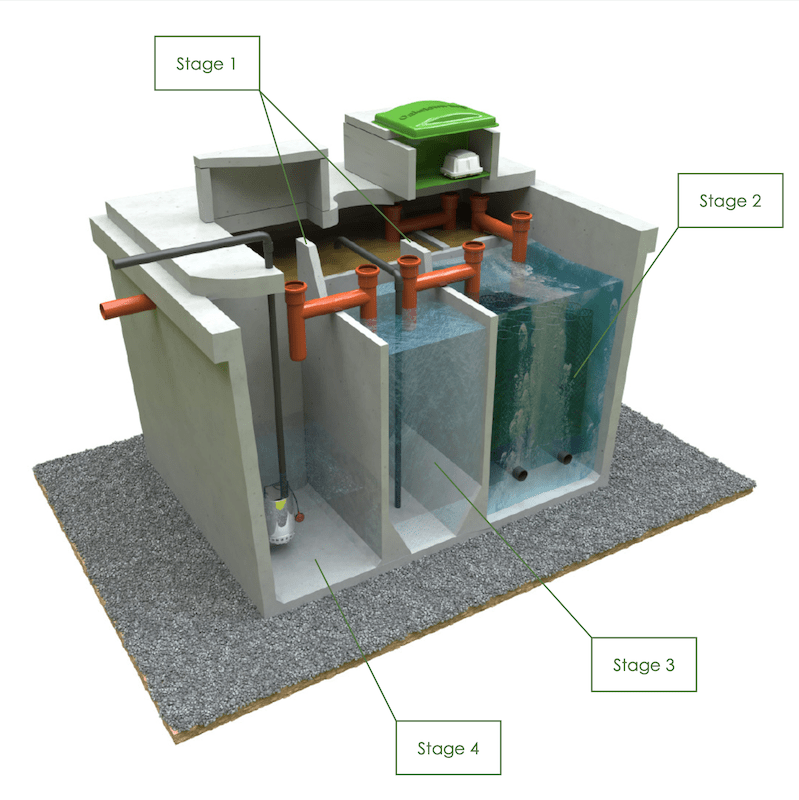 ---
4 Stages of 6PE Sewage Treatment System
Stage 1 – Primary Settlement in Chambers 1 & 2. Primary Settlement works on the basis of sedimentation, where solids separate from the water in chambers 1 and 2 allowing for anaerobic digestion over an extended period of time.
Stage 2 – Bio Reactor Chamber. Wastewater continues to flow by gravity into chamber 3 where natural occurring micro-organisms form on our submerged biofilm filter and are oxygenated by a small air blower. Effluent is extensively treated in this chamber prior to gravity flow into chamber 4
Stage 3 – Clarifier Chamber. Final settlement takes place within our Clarifier Chamber where any remaining sediment gravitates to the bottom of the tank and is transferred back to the primary settlement chamber. This ensures only fully treated water enters the final chamber
Stage 4 – Discharge Chamber. Treated water is stored within the discharge chamber and can be pumped or gravity fed to the percolation area depending on the client's site requirements.
---
BAF Technology
Selecting the highest quality components for sewage systems represents the best value for money in long term, compared to lower cost systems where components need to be replaced regularly. We use BAF technology which is reliable, robust, low cost in terms of power consumption, and overall better value for money.
Alternative technologies such as SBR (Sequential Batch Reaction) systems have a reputation for being problematic and unreliable. They typically struggle with peak flows and generally require maintenance and regular desludging of the tank itself.
As a customer you should always take independent advice from your architect, builder or industry experts. They will explain all the benefits of wastewater treatment systems and explain how a sewage system works.
Lower cost systems can initially appear good value, but it's important to compare like-with-like in terms of the product offering, accessories included, quality of components and maintenance requirements down the line.
The EPA website also has more information on sewage treatment systems. If you think you need to upgrade your system contact us to talk through your options.
Finding the best one for your home
It's important to speak to someone who will clearly explain how a sewage system works, and make the best recommendation for your home.
Our team are highly skilled and experienced and will discuss what you need, outline costs for you and even carry out a Free Site Survey to assess your site. Call us today on 046 9431389 to arrange a visit.
O'Reilly Oakstown supply precast concrete BAF sewage treatment systems throughout Ireland and can provide a full installation service. We may recommend the 6PE BAF for your standard domestic home. Or if you need a larger tank, our 8PE BAF system will be the answer for you.
Contact our team today to enquire about our sewage treatment systems and they will help you find the best one for your home.
---
Sign up to our Mailing List below for information & occasional offers
https://www.oreillyoakstown.com/wp-content/uploads/2022/08/How-a-sewage-system-works-2-e1660892728776.png
400
495
O'Reilly Oakstown Editor
https://www.oreillyoakstown.com/wp-content/uploads/2021/09/oro-web-logo.png
O'Reilly Oakstown Editor
2022-08-18 15:05:30
2022-09-06 21:54:32
How a sewage system works, and finding the best one for your home