Septic Tanks by O'Reilly Oakstown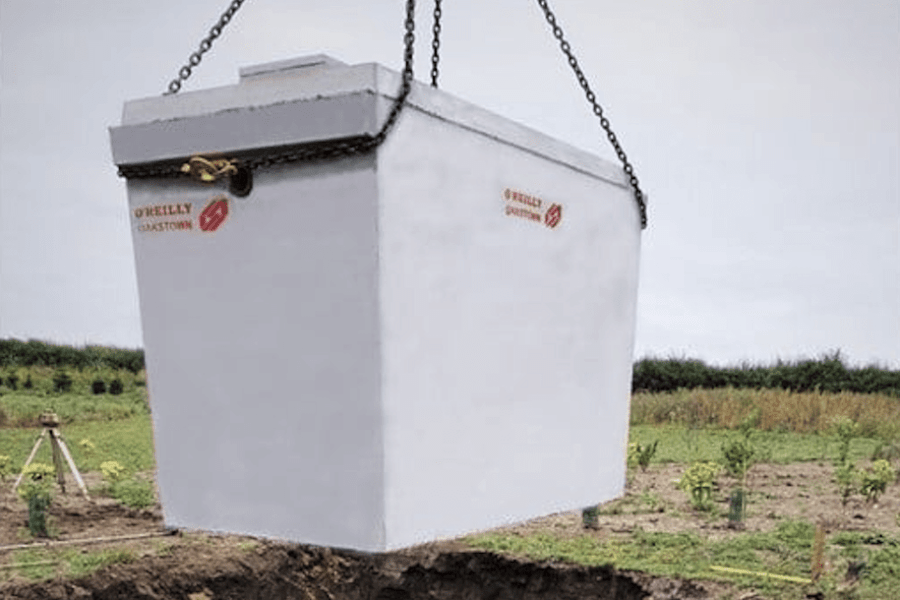 Septic Tanks by O'Reilly Oakstown
O'Reilly Oakstown are the no 1 Septic Tanks producer in Co Meath and the surrounding counties in Ireland.
Our Septic Tanks are ideal for new builds or for upgrading your tank. We provide maintenance contracts to ensure you tank is performing correctly.
If you have a specific requirement then please feel free to discuss this with our Sales Team or a member of our Technical Team.
Septic Tanks Installation
Once we receive your order, we can carry out a free site survey to liaise with your digger man or contractor and ensure he has the dimensions of the tank to be installed, so that the grounds-work is  carried out to the correct specification.
Concrete Septic Tank Prices
Our concrete tanks are available in a wide range of sizes and shapes, and cover a broad level of suitability.
However for basic family septic tanks the best solution solution is our 3,400L Certified Concrete Septic Tank.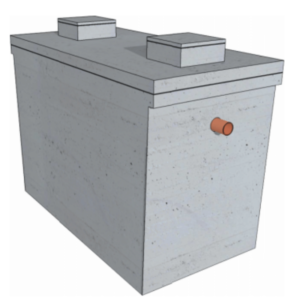 €1,150.00 Ex VAT (€1,414.50 Inc VAT)
EN Certified Septic Tanks 3400L €1150 +vat
Free delivery & installation within a 50km radius of O'Reilly Oakstown, Trim Co Meath
---
Delivery of Septic Tanks in Co Meath and Surrounding Counties
Delivery 0-100km: Included in cost
Delivery over 100km: Please contact us on 046 9431389 or sales@oreillyoakstown.com
Installation of Septic Tanks
Cost includes installation using a rigid truck with rear mounted crane
We use our HIAB trucks to deliver directly to your home and we don't just deliver – we install also. When our driver gets to the site he will check the dimensions to confirm all is ready for the installation. A hard core base will be added initially, and there is no requirement for backfill with lean mix concrete, just clay.
Installation Access
Cost includes installation using a rigid truck with rear mounted craneGood access is assumed for a 4 axel rigid truck with rear mounted crane.
Excavation for tank can be coordinated with delivery which ensures the tank(s) can be installed directly from truck to excavation.
Note our domestic systems range from 5 to 13 tonne in weight.
Septic Tank Upgrades
There are many reasons why you may need a septic tank upgrade. The most common reasons are that the septic tank itself is of poor quality and needs to be replaced, or that the percolation area surrounding the tank is of poor quality.
Occasionally, the percolation area just needs a pump or pump chamber, which we can supply and fit. If these issues are not dealt with they can cause serious pollution problems which are not only harmful to the environment, but are harmful to human health.
O'Reilly Oakstown's concrete septic tanks are structurally sound and the percolation area is fit-for-purpose. This in turn, reduces pollution levels and costs as the tank is durable and long-lasting and does not need to be replaced as often as plastic tanks.
Read more on Septic Tank Upgrades here
---
Sign up to our Mailing List below for information & occasional offers
https://www.oreillyoakstown.com/wp-content/uploads/2022/08/Septic-Tanks-Co-Meath.png
659
915
O'Reilly Oakstown Editor
https://www.oreillyoakstown.com/wp-content/uploads/2021/09/oro-web-logo.png
O'Reilly Oakstown Editor
2022-08-15 10:23:52
2023-03-07 20:08:33
Septic Tanks by O'Reilly Oakstown